Goal 2019: $460,000
«Autism gives no respite… Emergo does!».
Each annual campaign is essential to fully carrying out Emergo Respite's mission, established over 40 years ago: to provide respite to families living with autism on a daily basis. In addition, it helps maintain parents' contribution as low as possible.
Each donation, whether big or small, is important!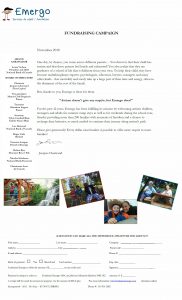 We warmly thank all the donors for their generosity.